Books that help with Topic Selection
Gail Virtual Reference Library
Identify keywords and concepts
Keywords and concepts describe the main idea(s) of your topic and enable you to focus your research.
Based on your assigned texts, jot down the terms that you identify as the keywords and main concepts.

Use background information from reference sources such as the Gale Virtual Reference Library to find additional keywords and synonyms.

Group the keywords by concept.

Identify synonyms of your keywords (e.g., synonyms for "teenagers" are adolescents, youths, and children).
Writing Argumentative Papers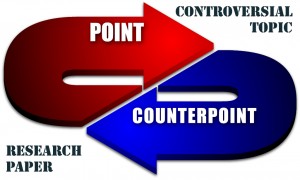 Choose a topic which has at least two sides.
Provide background to the issue to help the audience understand the debate.
Use unbiased sources to defend your view with reason, accuracy, fairness and relevant evidence.
Know and address your opposition.
Present an impressive conclusion.
Controversial Topic Ideas
CQ Researcher Topics Feed
Loading...